Service Department
Brent
Service Manager
Brent has an impressive career with Harley-Davidson® that began right out of High School as an entry-level technician. He quickly rose through the ranks and went on to work at several factory authorized dealerships and one aftermarket shop along the way. Having performed nearly all roles a dealership has to offer and every phase of Service Operations, Brent left the dealer network in 1995 to become an instructor for MMI where he taught the Harley-Davidson® late model and specialty courses for entry-level techs, antique restoration, engine rebuild & performance and factory PHD classes for dealership technicians. Catching the eye of Harley-Davidson® University in Milwaukee, he was offered a position at HDU as a technical trainer and curriculum developer in 1997. In the course of the next thirteen years Brent moved from HDU, to engineering and several managerial roles throughout the Quality, Reliability and Technical Service Division of Harley-Davidson®. Brent joined us here at St. Paul Harley-Davidson in 2010.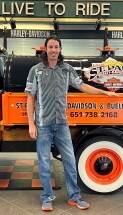 Michelle
Service Office Specialist
Monty
Master Technician
Monty has been with St. Paul Harley-Davidson® since 2002, but began his wrenching career back in 1995. Several states and many experiences later there are few issues or model years he can't handle. Monty continues to be a one of our go to technicians. When not playing with Harley® motorcycles, he is likely to be found building vintage cars, trucks, bikes or just about anything else.
Dorian
Master Technician
Dorian is a Master Technician and has been with St. Paul Harley-Davidson® for more than 20 years with 25 years of collective product knowledge and experience. He is one of the founders of our collision repair processes and served as our primary estimator for years, helping train the rest of the team. In other words, he flat out does it all! When Dorian isn't busy tearing it up on the bench, he's probably out getting some much deserved seat time on his FL.
Mike
Master Technician
Mike is a Motorcycle Mechanics Institute Graduate, class of 2006. Mike took the early and late model Harley-Davidson® modules. He spent time during school in the Phoenix area working as a small engine technician for a rental company. Mike has spent time in the Minnesota dirt bike racing scene and rides a 1999 FXR2. He is current with all PHD training and enjoys electrical diagnostic work and fussy handlebar/wiring jobs that many would rather avoid. Mike also enjoys playing pool and snowboarding.
Nick
Master Technician
Nick is a 2010 MMI graduate of the Phoenix campus. He started work as a Harley technician in outstate Minnesota in 2010 and worked for another dealer from 2012 to 2015. Nick worked in the aftermarket industry for three years before coming to St Paul Harley-Davidson Inc. in 2018. Nick rides a XL 1200 Sport with extensive modifications to powertrain and chassis. He is an avid hiker and kayaker and likes to spend time with family and friends.
Andy
Master Technician
Andy is a 2008 graduate of Motorcycle Mechanics Institute in Phoenix, where he attained the highest recognition level in his class - the Harley-Davidson® Program Top Technician Award. Andy started his dealership career immediately following graduation right here in MN and joined the team at St. Paul Harley-Davidson® in 2013. Andy is current with all In-Dealership PHD training. In his off time Andy enjoys being with his family, hunting, fishing, and snowboarding. He has owned several bikes, from old school Choppers to the FLHT that he currently rides today.
Guy
Technician
Guy started at St Paul Harley-Davidson in November of 2021 in an apprenticeship program and has proved himself very well so far. He has turned a wrench for the past 30 years and a lot of those years were self taught. When Guy isn't busy working on bikes or vehicles he enjoys riding motorcycles, entertaining his grandson and spending time with friends and family.
Drew
Technician Apprentice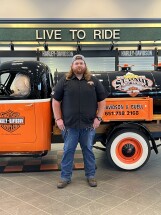 John
Service Dispatcher
Probably the key position for customer satisfaction in the Service Department. He touches every work order and dispatches each job to the technicians. An MMI trained technician and dealership experienced, John knows what it takes to get the work out on time -- done right the first time!
Coultior
Service Assistant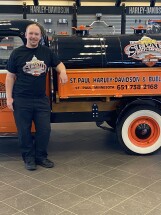 Parts
Michelle
Shipping and Receiving Specialist
Harley
Parts to Service Liaison
Shane
Parts to Service Liaison
Sam
Parts Manager
Dedication is the only word for our Parts Team. Sam has years of experience and knowledge of both Parts and Service and brings a wealth of knowledge and assistance to ALL your upgrades you desire! Knowing the product is just the beginning. Mastering project management and understanding customer concerns enable this team to be successful. Call ahead if you want to set up an appointment with Sam as he is in HIGH demand!
Kristen
Assistant Parts Manager
MotorClothes
Cassie
General Merchandise Manager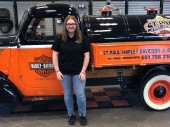 Rebekah
Motorclothes Specialist
Trisha
Motorclothes Specialist
Mary
Motorclothes Specialist
Mollie
MotorClothes Specialist
Krystle
Motorclothes Specialist
Jo
Motorclothes Specialist
Admin
Tammy
Office Specialist
Tammy is dedicated to your overall customer service experience. Previously, she worked in the investment field for 18 years, and worked at a school for 12 years. She loves hockey, fishing, and snowmobiling.
Mike
Building Maintenance